Your donations help keep this site running,
thank you very much for the support!

The Destiny Series by
xsecretxkeeperx
[ - ]
Summary:
The Destiny Series starts with my story Power of Destiny about Bella being imprisoned in Volterra. The story starts in her POV, switches to Edward's POV and then returns to Bella's at the end.
After you read Power of Destiny, explore the minds of the other characters during the story and even get a glimpse's of Bella's missing year and Aro's excitement over Alice, the first time he meets her.
Categories:
AU
Characters:
Alec
,
Alice
,
Aro
,
Bella
,
Caius
,
Carlisle
,
Charlie
,
Demetri
,
Edward
,
Emmett
,
Esme
,
Felix
,
Gianna
,
Heidi
,
James
,
Jane
,
Jasper
,
Marcus
,
Rosalie
Parent Series:
None
Stories:
1
Series Type:
Moderated
Power of Destiny
by
xsecretxkeeperx
Rated:
R
[
Reviews
-
275
]
Summary:
She was sought after for her scent, but soon revealed to be more than just a monster's drug. It was her destiny to embrace destruction, and nothing could have prepared Bella for what lay ahead in the dark chambers and corridors of Volterra Castle. As far as she was concerned, her life ended the day she stepped foot in that cursed city. She didn't count on Edward Cullen.
With a soul as kind and pure as Bella's, how could anything evil come from her? Edward and Carlisle are willing to take the risk in rescuing this broken, beautiful girl, but the challenges are more than any of them could have imagined.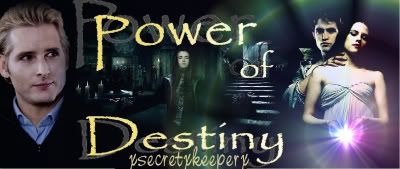 Categories:
AU
Characters:
Alice
,
Aro
,
Bella
,
Carlisle
,
Demetri
,
Edward
,
Emmett
,
Esme
,
Felix
,
Gianna
,
Heidi
,
Jane
,
Jasper
,
Marcus
,
Rosalie
Challenges:
Series:
The Destiny Series
Chapters:
18
Completed:
Yes
Word count:
47068
[Report This] Published:
September 29, 2008
Updated:
December 03, 2008
---



© 2008, 2009 Twilighted Enterprises, LLC. All Rights Reserved.
Unauthorized duplication is a violation of applicable laws.
Privacy Policy | Terms of Service


All publicly recognizable characters, settings, etc. are the intellectual property of their respective owners. The original characters and plot are the property of Stephenie Meyer. No copyright infringement is intended.