Your donations help keep this site running,
thank you very much for the support!

Penname:
Shawnta Claus [
Contact
]
Real name:
Shawna
Status:
Member
Member Since:
November 12, 2009
Website:
Beta-reader:
Yes
I'm new to the world of fanfiction. After having read so many failures, I was grateful to stumble upon this site. Thank you, Twilighted, for posting quality work!




I've always loved writng, but adulthood came at me full force, limiting time for much of anything other than work. I read about the Canon Christmas contest on here, and thought it would be a great a challenge for myself. I'm thrilled that it was received well by the judges.




The Unforgiving Season is my first fanfiction piece, so I'm sure there's plenty of room for improvement. I welcome and encourage all feedback, even negative. How else am I to improve?




I love all things Twilight, but I also enjoy Jane Austen, Libba Bray's Gemma Doyle series, Dan Brown, Dan Patterson, and the list goes on. I also play piano, sing, and have a nerdy obsession with trivia and game shows.



[
Report This
]
The Unforgiving Season
by
Shawnta Claus
Rated:
PG
[
Reviews
-
20
]
Summary:
This is a winning entry for "A Canon Christmas" contest hosted by Twilighted.net. I chose a pre-Twilight, angst-ridden Edward piece. This is also my first ever attempt at fanfiction, and was written entirely Beta-free, unfortunately.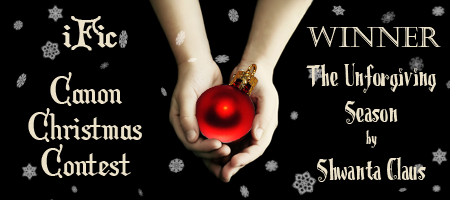 Validation Beta: Hopeful Wager. Banner designed by Dahlia Black.
Categories:
Pre-Twilight
Characters:
Alice
,
Ben
,
Carlisle
,
Edward
,
Emmett
,
Esme
,
Jasper
,
Rosalie
Challenges:
Series:
None
Chapters:
1
Completed:
Yes
Word count:
3671
[Report This] Published:
November 12, 2009
Updated:
November 15, 2009
---



© 2008, 2009 Twilighted Enterprises, LLC. All Rights Reserved.
Unauthorized duplication is a violation of applicable laws.
Privacy Policy | Terms of Service


All publicly recognizable characters, settings, etc. are the intellectual property of their respective owners. The original characters and plot are the property of Stephenie Meyer. No copyright infringement is intended.