Your donations help keep this site running,
thank you very much for the support!

Penname:
sheri17awhile [
Contact
]
Real name:
Sheri
Status:
Member
Member Since:
August 27, 2009
Website:
www.cam-gigandet.com
Beta-reader:
Real life pretty much sucks. That's why I choose to live in my fantasy world. I had a very nice time being seventeen, so I decided to stay with that number forever - after all, age is just a number. How old you are is a state of mind - and I will never be old.




I've done a bit of acting and playing music - mainly for my own amazement but I'm told I am pretty good at both. Keyboards are my forte; the hammond organ to be exact, and I have played in bars and in church. My acting debut was in The Brothers Grimm - the original one staring Lawrence Harvey . I was one of one hundred kids who ran out in the train station at the end of the movie. But I loved it!! Did several stage plays, and look forward to doing several more.




Writing on here is a total high. I can really get off on submitting a chapter and being "validated." There's just something about that word...




I loved the Twi-saga and all the characters, but the first time through the book, I fell for James. I know, I know - but it is what it is. So naturally, when the movie came out, I couldn't wait to see my guy in action; Cam Gigandet did not disappoint. I loved him in the OC, Who's Your Caddy, Never Back Down, Pandorum, and you gotta admit, he was sexy as hell in Burlesque. Didn't even think twice about who would star in my story.




I hope you enjoy reading my feeble attempt at writing as much as I enjoy writing it.



[
Report This
]
Nights In Black Satin
by
sheri17awhile
Rated:
NC-17
[
Reviews
-
11
]
Summary:
Dr. Rhyleigh Manning works as a free-lance profiler for several international government agencies. On her current assignment for the CIA, she finds herself partnering with an unlikely ally. Her supernatural gifts paired with his otherworldly existence make them an unstoppable, deadly team, one that the enemy they are hunting is determined to defeat.
Categories:
AU
Characters:
James
Challenges:
Series:
None
Chapters:
22
Completed:
No
Word count:
85157
[Report This] Published:
April 02, 2013
Updated:
November 13, 2014
The Summer of 1966
by
gopher4953
Rated:
NC-17
[
Reviews
-
24
]
Summary:
Thanks to the awesome maimu[velvet kitten] for the amazing banner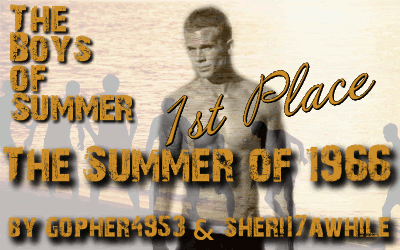 During the summer of 1966, best friends, Emily Russo and Camille Caravelli, find love at first sight with two boys , Emmett McCarty and James Hightower, at the beach. They are all 'Trust Fund' babies.
A lot of history happens ie: Viet Nam, Peace Rallies, the British invasion, and these 'good girls' are tempted. Will they succumb to their virgin hormones? This was the beginning of The Age of Aquarius...Free love and flower power.
Categories:
AU-Human
Characters:
Emmett
,
James
,
Other Character
Challenges:
Series:
Emmett Stories
Chapters:
32
Completed:
No
Word count:
218351
[Report This] Published:
July 30, 2011
Updated:
June 30, 2013
Escape
by
sheri17awhile
Rated:
NC-17
[
Reviews
-
91
]
Summary:
Sheri decides her divorce being final deserves a celebration. She chooses an old favorite place to party, hoping to maybe hook up for a one night stand. In her wildest dreams, she never thought she'd find her perfect match in a younger man - a sexy mystery man who turns out to be an actor - Cam Gigandet.
Categories:
Other
Characters:
Cam Gigandet
Challenges:
Series:
None
Chapters:
35
Completed:
Yes
Word count:
136052
[Report This] Published:
January 20, 2010
Updated:
April 19, 2012
---



© 2008, 2009 Twilighted Enterprises, LLC. All Rights Reserved.
Unauthorized duplication is a violation of applicable laws.
Privacy Policy | Terms of Service


All publicly recognizable characters, settings, etc. are the intellectual property of their respective owners. The original characters and plot are the property of Stephenie Meyer. No copyright infringement is intended.