Your donations help keep this site running,
thank you very much for the support!

Penname:
theladyingrey [
Contact
]
Real name:
Status:
Member
Member Since:
July 01, 2009
Website:
Beta-reader:
I picked up Twilight on a Friday. By Monday, I'd read the whole series. I'm still not satiated, so I'm wading into the world of fanfic.




There are three things I love most in this world: angst, smut and Edward. Put the three together and I will be purring on your doorstep.






[
Report This
]
Love Amongst the Ruins
by
theladyingrey
Rated:
NC-17
[
Reviews
-
403
]
Summary: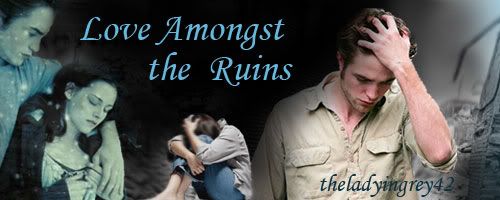 Bella begins a new job at a university library, only to be haunted by dreams of earthquakes and the presence of a mysterious and tortured young man she just can't bring herself to stay away from. Edward is running from a dark past while remaining emotionally stagnant, nursing decades-old injuries that go more than skin deep.

Can they rescue each other from their pasts, and maybe find love in the process? AU/AH, OOC. Rated for Edward's foul mouth and for future lemony goodness.
Categories:
AU-Human
Characters:
Bella
,
Edward
Challenges:
Series:
None
Chapters:
42
Completed:
Yes
Word count:
324214
[Report This] Published:
July 25, 2009
Updated:
September 10, 2010
---



© 2008, 2009 Twilighted Enterprises, LLC. All Rights Reserved.
Unauthorized duplication is a violation of applicable laws.
Privacy Policy | Terms of Service


All publicly recognizable characters, settings, etc. are the intellectual property of their respective owners. The original characters and plot are the property of Stephenie Meyer. No copyright infringement is intended.