Your donations help keep this site running,
thank you very much for the support!

Penname:
Chakrakhan [
Contact
]
Real name:
Lori
Status:
Member
Member Since:
May 07, 2009
Website:
Beta-reader:
I am a singer/songwriter. I have a wonderful husband and two beautiful young daughters. I have a bachelors degree in Communications. I am a Reiki Master Practitioner. I am a relatively new Twilight series fan, but I am devoted to it, and inspired by it.



[
Report This
]
Alice and Jasper's Private Adventures
by
Chakrakhan
Rated:
NC-17
[
Reviews
-
35
]
Summary:
This story follows Alice and Jasper through the story arc of Breaking Dawn. It explores their relationship with each other, and with those they come in contact with. I hope for it to be funny, touching and a realistic portrayal of what their interactions are like. There will be lemons and adult content!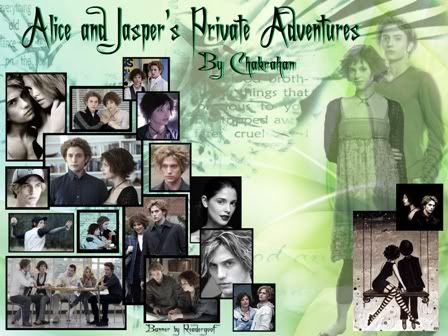 Thanks to Readergoof for the awesome banner!
Categories:
Breaking Dawn
Characters:
Alice
,
Jasper
Challenges:
Series:
Eternal Hope: The Alice and Jasper Archive
Chapters:
9
Completed:
No
Word count:
32377
[Report This] Published:
June 08, 2009
Updated:
September 12, 2009
---



© 2008, 2009 Twilighted Enterprises, LLC. All Rights Reserved.
Unauthorized duplication is a violation of applicable laws.
Privacy Policy | Terms of Service


All publicly recognizable characters, settings, etc. are the intellectual property of their respective owners. The original characters and plot are the property of Stephenie Meyer. No copyright infringement is intended.