Your donations help keep this site running,
thank you very much for the support!

Penname:
thunderstorm [
Contact
]
Real name:
Mandy B. (MBartz)
Status:
Member
Member Since:
April 27, 2009
Website:
Beta-reader:
Yes



Once upon a time, I finished the Twilight Saga and went into mourning. The Twilight characters had become my favorite group of fictional personalities since Anne of Green Gables. I was lost without them. Thankfully, a good friend talked me off of my proverbial cliff by sending me an email with some links to fanfiction. I have read so many brilliant stories! One day in April 2009, I became inspired and decided to try my hand at writing fanfiction too.




About me: I'm a 31 year old wife and mother. I've been published in some minor magazines. My educational background is in Psychology. I love photography, reading, writing, hanging out at the shore, surfing, playing guitar, and yoga. I love my readers! Find me on Facebook. Username: supermassiveblackhole






[
Report This
]
The Consequence
by
thunderstorm
Rated:
NC-17
[
Reviews
-
363
]
Summary:
When Edward leaves Bella in the beginning of New Moon, his decision sets off a spiral of tragic consequences. Edward and Jacob attempt to protect Bella, but there are some things that they can't protect her from.
Rated for occasional profanity, sensitive topics, and sexual content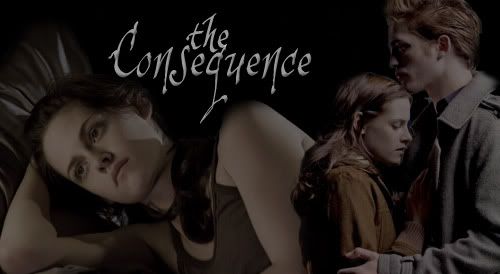 Categories:
New Moon
,
AU
Characters:
Alice
,
Angela
,
Bella
,
Carlisle
,
Charlie
,
Edward
,
Emmett
,
Jacob
,
Jasper
,
Jessica
,
Mike
,
Rosalie
,
Tyler
,
Victoria
Challenges:
Series:
None
Chapters:
21
Completed:
No
Word count:
62038
[Report This] Published:
April 28, 2009
Updated:
August 14, 2009
Disarm You With A Smile
by
thunderstorm
Rated:
NC-17
[
Reviews
-
191
]
Summary:
"Disarm you with a smile,
And leave you like they left me here,
To wither in denial.
The bitterness of one who's left alone.
Ooh, the years burn."
-Smashing Pumpkins, Disarm

This is an alternative plot to when Bella is on the cliff, picking up from the top of page 358 of New Moon. Bella does not rush back into Edward's arms. Bella struggles a great deal with depression, anxiety, and esteem. Several characters may be slightly OOC in that they use occasional profanity.
"This story contains incidents of self-harm. If this is disturbing to you, please do not read."
What if Bella broke down on the cliff and truly tried to kill herself? What if Edward got the news in a different way and hadn't gone to Volterra? Where would it leave Edward and Bella? Where would it leave Bella and Jacob? This story will be an angst filled alternative, but I do believe in happyish endings.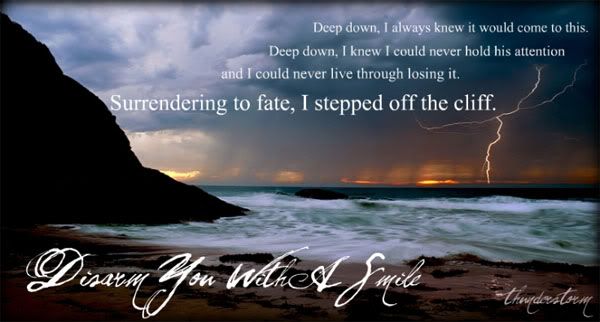 Thank you for the banner, Roonie!
Categories:
New Moon
,
AU
Characters:
Alice
,
Angela
,
Bella
,
Ben
,
Billy
,
Carlisle
,
Charlie
,
Edward
,
Embry
,
Emmett
,
Eric
,
Esme
,
Harry
,
Jacob
,
Jared
,
Jasper
,
Jessica
,
Lauren
,
Leah
,
Mike
,
Quil
,
Renee
,
Rosalie
,
Sam
,
Seth
,
Tyler
,
Victoria
Challenges:
Series:
None
Chapters:
10
Completed:
No
Word count:
28947
[Report This] Published:
June 13, 2009
Updated:
August 11, 2009
---



© 2008, 2009 Twilighted Enterprises, LLC. All Rights Reserved.
Unauthorized duplication is a violation of applicable laws.
Privacy Policy | Terms of Service


All publicly recognizable characters, settings, etc. are the intellectual property of their respective owners. The original characters and plot are the property of Stephenie Meyer. No copyright infringement is intended.