Your donations help keep this site running,
thank you very much for the support!

Penname:
KowBonez [
Contact
]
Real name:
Ket
Status:
Member
Member Since:
August 21, 2008
Website:
Beta-reader:
I'm eighteen. I'm a huge Twilight fan but I endulge myself in a vast amount of literature. I enjoy writing extensively and have been known to unleashed heinous ideas about the stories I read, usually ending in the roaring laughter of my friends. I've had a few ideas about the Twilight series that some enjoy so I decided to expand my auidience. I'm trying to debunct the general idea that a teenager can't write as wonderfully and meaningfully as a thirty year old women. Let's hope I succeed.



[
Report This
]
A Week in Purgatory
by
KowBonez
Rated:
NC-17
[
Reviews
-
76
]
Summary: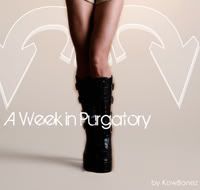 Renesmee is a week from her half birthday, the day she will be fully mature and Jacob will be able to have her to himself for the rest of their lives. However, the two are having a hard time keeping their hands off each other while the day slowly draws nearer. With Edward and Bella breathing down his neck, Jake is split between wanting to give his love everything she wants and trying not be killed by her vampire parents.
Rated NC-17 for crude teenaged humor and language and eventual sexual gratification in later chapters.
Categories:
Post-Breaking Dawn
Characters:
Jacob
,
Nessie
Challenges:
Series:
None
Chapters:
8
Completed:
No
Word count:
24942
[Report This] Published:
August 23, 2008
Updated:
February 01, 2009
---



© 2008, 2009 Twilighted Enterprises, LLC. All Rights Reserved.
Unauthorized duplication is a violation of applicable laws.
Privacy Policy | Terms of Service


All publicly recognizable characters, settings, etc. are the intellectual property of their respective owners. The original characters and plot are the property of Stephenie Meyer. No copyright infringement is intended.