Your donations help keep this site running,
thank you very much for the support!

Penname:
Wrenegade [
Contact
]
Real name:
Wren Rivers
Status:
Member
Member Since:
July 18, 2011
Website:
Beta-reader:


[
Report This
]
Summary:
Banner by Jlove34
When Bella was left in the woods on that fateful day by Edward, she wasn't found by Sam or any of the Quileutes. Victoria was lurking and caught her scent. She absconded with a severely injured Bella to parts unknown. Just before Victoria could suck the last drop that would signify the stopping of Bella's heart, something interfered. Killing Victoria and saving Bella. When Bella woke up, she had no memory. None whatsoever. The only clue she had to her past was her first name written on the inside of her boots.
Starting over as a whole new person, Bellatrix Summers is anything but human now.
Picks up in New Moon, then is AU and OOC for Edward and Bella. Canon Couples eventually, with a few bumps along the way. Multiple PoVs will be told with little overlap.
Categories:
New Moon
,
AU
Characters:
Alice
,
Bella
,
Edward
,
Jacob
,
Other Character
Challenges:
Series:
None
Chapters:
15
Completed:
No
Word count:
53180
[Report This] Published:
March 01, 2013
Updated:
May 16, 2013
A Second Chance at Love
by
Wrenegade
Rated:
NC-17
[
Reviews
-
75
]
Summary:
(banner by Jlove34)
Bella dismisses Edward when he returns in New Moon. She moved on with Jacob, and promised Edward that he would find happiness and love someday. With the letter she wrote him in hand, he believes her and moves on with his life, in search of his love. Forty years later, he and the rest of the Cullens re-enroll in High school. Two new students throw his world out of orbit and he's faced with the reality of the promise Bella made him.
AU after New Moon. Edward is a little OOC because he doesn't want to repeat history, otherwise, canon couples with the exception of Edward of course. Note: Jacob was a werewolf, but Bella wasn't necessarily all human herself. Rated NC-17 for language and content in later chapters. Yes there will be lemons but not at first.
Categories:
AU
Characters:
Alice
,
Bree
,
Carlisle
,
Edward
,
Emmett
,
Esme
,
Jasper
,
Other Character
,
Rosalie
,
Victoria
Challenges:
Series:
None
Chapters:
13
Completed:
No
Word count:
72019
[Report This] Published:
December 30, 2011
Updated:
April 09, 2013
Rocky Beginnings
by
Wrenegade
Rated:
NC-17
[
Reviews
-
10
]
Summary: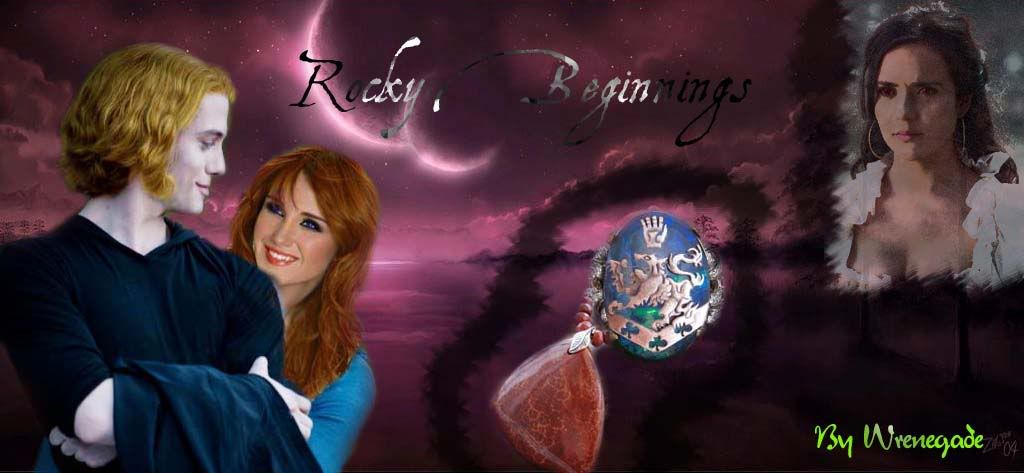 Opal Maxwell lives in a tiny town near Cincinnati, Ohio. Her home is frequented by a coven of vampires who have discovered her secret. She desperately wants to get out of this way of life, but thinks the only way is to go back to her old life, which is simply not an option. Watch as one of our favorite Cullens meets her, rescues her and brings her back to the family, to show her the way she's living is not the only way.
I know there are a lot of canon purists out there, so this story likely isn't for you. In my mind, the whole reason for fan fiction is to take the characters, scenes, and locations we love and mix them up into an amalgamation of our own. NaNoWriMo also known as National Novel Writing Month is an event that takes place every November, where all the entrants are to write 50,000 words in 30 days. It's tough, but it's fun and I highly recommend it. I did this last November, and chose to pluck my main character from the story I wrote and throw her into the world of Twilight. See what happens when the Cullens realize they're not the only kind of immortals out there.
Stephenie Meyer is the stage, I'm merely a player.
I write my stories in present tense, so if you see sections in italics and past tense, they are flashbacks.
Categories:
AU
Characters:
Jasper
,
Other Character
Challenges:
Series:
None
Chapters:
15
Completed:
No
Word count:
71482
[Report This] Published:
June 08, 2012
Updated:
March 08, 2013
---



© 2008, 2009 Twilighted Enterprises, LLC. All Rights Reserved.
Unauthorized duplication is a violation of applicable laws.
Privacy Policy | Terms of Service


All publicly recognizable characters, settings, etc. are the intellectual property of their respective owners. The original characters and plot are the property of Stephenie Meyer. No copyright infringement is intended.