Your donations help keep this site running,
thank you very much for the support!

Penname:
MaraPore321 [
Contact
]
Real name:
Status:
Member
Member Since:
August 01, 2010
Website:
Beta-reader:
No
1. I can't stand non-canon parings.
2. I hate women. We suck at emotions.
3. I love freaky dark stories.
4. I read more than I breathe.
5. Contact lenses are awesome.
6. I only started writing because I needed more to read.
7. It took me 3 weeks to write the first chapter of Mental. And I still think bits are lame.
8. I do art. Not very well, but I do it anyway.
9. I had an old FanFic account, but then I forgot the password :/
10. I like sharp teeth... bite me.
11. I often growl. Rawr.
12. Loads of things make sense... in my head.
13. I have an over-active imagination. You probably know that already.
14. In my world, things are easily resolved. Death is usually involved.
15. You may call me a geek. I certainly am one.
16. Paramore for the ultimate and glorious win.
17. I wish I was Jane. I want many people to feel pain.
18. I'm not English. I'm British. There's a difference.
19. R-Pattz? Lame. He is totally unattractive to me.
20. Can't end on 19... gets me nervous :S




You may call me Char. It's my online pseudonym.



[
Report This
]
Mental
by
MaraPore321
Rated:
NC-17
[
Reviews
-
160
]
Summary:
When Bella Swan moved to Forks for work experience at a local mental care home, the last thing she expected was to have feelings for the murderous Edward Cullen. Especially when her boyfriend, Jacob Black, wants to ask her a special question...
Edward Cullen had always had problems. Unable to resist the urge to kill others, and incapable of shunning the monster inside his head, he gets rejected by his foster father, proof that he was never really loved. Then, five years later, he meets a woman who could change everything . . .
Rated for the language, extreme violence and sexual content. Sensitive readers should not read. I do not own Twilight, never have, never will.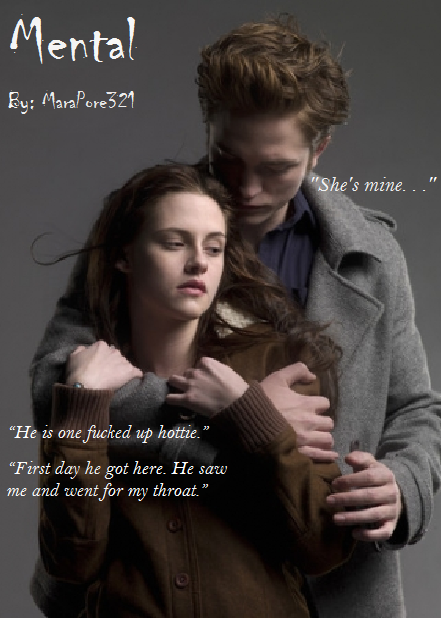 Thanks to Kyvak for the awesome banners ^^ I LUFF YEW <33
Categories:
AU-Human
Characters:
Angela
,
Bella
,
Carlisle
,
Charlie
,
Edward
,
Jacob
,
Jessica
,
Lauren
,
Mike
,
Seth
,
Tyler
Challenges:
Series:
None
Chapters:
11
Completed:
No
Word count:
41259
[Report This] Published:
August 01, 2010
Updated:
June 06, 2011
---



© 2008, 2009 Twilighted Enterprises, LLC. All Rights Reserved.
Unauthorized duplication is a violation of applicable laws.
Privacy Policy | Terms of Service


All publicly recognizable characters, settings, etc. are the intellectual property of their respective owners. The original characters and plot are the property of Stephenie Meyer. No copyright infringement is intended.