Your donations help keep this site running,
thank you very much for the support!

Penname:
PaperArtist [
Contact
]
Real name:
Lynne'
Status:
Member
Member Since:
October 12, 2009
Website:
Beta-reader:
No
Hi! I live in Washington state (yes, it's true) but I'm on the opposite side of the state as Forks. It doesn't rain as much here (we get lots of snow though) and whenever Forks is described (minus the rain thing) it actually fits where I live more than the real Forks!




I live in a part of Washington were there actually is a lot of forest near small towns (it really would be possible for Edward to run to my house from a school), but unlike the Olympic Peninsula, it's often sunny here (Bella would like that.) There have been several sightings of mountain lions here (we generally call them cougars) near to houses and people, quite unusual (but again.. more like the book than the real Forks.) One was even seen in a small town in someones yard and hissing at a tent with children in it! We definitely could use a few vegetarian vampires in this area. My husband would also like to point out that we live in the only county in Washington that has a wolf pack. Apparently, wolves are monitored really really closely. He is convinced that Stephanie Meyer was really writing about where we live instead of Forks.




I think I fell in love with the Twilight books so much (besides finding the characters fascinating) was because it reminded me of my own love story (in a small way) with my own Edward. Not that our love story resembled there's much, but there's something about the timelessness of true love. No matter what my husband and I go through I'm always grateful that I married him and it's wonderful to be reminded of what it was like to be first in love.




We have two little girls 4 and 2 years old. I am an artist, musician, and seamstress, though not often professionally any more since I've had kids and stay home with them. I do alter an occasional wedding dress or do a commission artwork piece. I hate performing, though I used to play and sing with my harp in a group every Christmas. It was merely a good way to earn money and I was good at it, but I hated being in the center of attention. Now I mainly play my harp or the piano just for fun. My daughters like to sit next to me and "help" play the piano.




My husband is actually the writer/editor in the family, but I've learned a lot from him (our long distance engagement and writing to each other helped with that.) I tend to obsess over projects until they are done and I'm really just trying to finish "Midnight Sun" for myself because I couldn't stand that it was undone and so great! (Talk about torture.. Stephenie Meyer posts HALF A BOOK and then says she won't finish it!.. that should be illegal.) I feel like anything I make up is "pretend" and whatever new things she would have added would be "real" because it's not my world. I'm always looking to write in cannon and rather than bring my ideas about a character I enjoy sort of discovering who that character is. Stephanie Meyer owns the rights to all of this of course and I'm just attempting to ease the torture of not being able to finish reading what she started. My own writing projects are going to be seriously easy after attempting this!




I'm not planning on writing any more from Edwards POV (fascinating as it is) after "Midnight Sun" is done... unless someone begs me to do a chapter (that hasn't been done well yet).. then I might consider doing a little more.




-I just found this next thing on someones profile and thought it was funny-




Lessons Learned in Twilight:
1. You can enjoy the banquet while resisting the wine.
2. The future is not set in stone.
3. Men are crabby when they're hungry.
4. Nothing beats an irritable grizzly bear.
5. True love knows no boundaries.
6. Some people are just danger magnets.
7. Even eternal enemies can work together to save something they love.
8. Forget the fangs - real vampires sparkle!
9. Soul mates exist, even if it takes 100 years to find them.
10. Porsche 911 Turbos make really great bribes.
11. Friendship is like the sun on a cloudy day.
12. Snow just means it's too cold for rain.
13. Family is about more than just blood.
14. What's worth doing is worth over-doing.
15. Losing your temper can be hair-raising.
16. "Vegetarian" has many meanings.
17. Even monsters can hold on to their humanity.
18. There are exceptions to every rule.
19. Always verify bad news before doing something stupid.
20. Hearing voices in your head doesn't necessarily mean you're crazy.
21. Love means being willing to sacrifice your happiness for another's.
22. Cold hands = Warm heart.
23. Not breathing is uncomfortable.
24. Stupid lambs and masochistic lions make quite a pair.
25. Romeo was an idiot.
26. Twilight is the saddest and safest time of day.
27. Extreme sports should not be attempted alone.
28. Life is worth very little without someone to share it with.
29. Space heaters can be very annoying.
30. Love can make even the most miserable places paradise




"Penguins. Lovely." Edward, Eclipse




"Next time you want to hit me, use a baseball bat or a crowbar, okay?" Jacob, Eclipse




"Stupid shiny Volvo owner."-Bella, Twilight




"I'm really glad Edward didn't kill you. Everything's so much more fun with you around." — Emmett Cullen




"This hostage stuff is fun." — Alice Cullen




"I can't imagine how awful that must feel. Being normal? Ugh." — Bella Swan




"Yes, because a vampire slumber party is the pinnacle of safety conscious behavior." Bella




"Go fetch a space heater... what am I a St. Bernard?" -Jacob




"I've been tortured, Alice painted my toenails!" -Bella Swan




"It's a good thing you're bulletproof." -- Bella Swan




Emmet: "Fall again, Bella?"
Bella: "No Emmet, I punched a wear wolf in the face."




"You are bizarrely moral for a vampire." -- Bella Swan



[
Report This
]
Always Our Journey
by
Horizon77
Rated:
PG-13
[
Reviews
-
27
]
Summary:
Edward and Alice discuss his departure after Bella's birthday and what his return means for their future. Set between chapters 22 and 23 of New Moon.
Categories:
New Moon
Characters:
Alice
,
Edward
Challenges:
Series:
None
Chapters:
1
Completed:
Yes
Word count:
3012
[Report This] Published:
February 27, 2009
Updated:
March 03, 2009
Reviewer:
PaperArtist
Signed
Date:
January 30, 2010
Title:
Chapter 1: Chapter 1
I really liked it. The thoughts that he goes through about why he wants to keep her human are totally accurate. Often people only talk about her soul, and of course that is the main thing that he's worried about it, but there are all these layers behind it all! I liked how it ended as well, but perhaps it was a little too bright and accepting considaring that when they do see Alice next he smashes some furniture in the other room because he was so angry about her being changed. To make it flow into the next chapter you could perhaps take this even a little farther so that he's at the point where he won't let it happen.... like this might be a good time for him to strategize about how to keep Bella hidden from Demetri and grow confident in the fact that it IS possible to keep her human... or at least human as long as possible.
Really good voice though! It rings true to me in how he spoke and would think, but at this point in his journy I don't think he could say "This was the way it was supposed to be" without some serious qualifiers and over thought out arguments that would undoubtedly brighten his own mood with his cleaverness at the new "plan" but ultimately bring him to the opposite conclussion than that last line left him. Especially with her about to wake up... he'd need to be ready with his plan before the moment comes when he assures her that she would stay human and when she gets mad and gets up to go to the Cullen's house.
I'm trying to figure it out... Would Alice know they would be coming? I mean.. I suppose Bella could have made that decision previously, but it seems like Alice wouldn't have known they were coming until Bella made that decision to go. Up until Edward tells her that she could sty human she thought he was going to change her or let her be changed and would have had no reason to up and go to the Cullen's for the meeting. I'm probably being a bit too picky, but I'm a stickler about canon.
Really really good job though! Sorry this is so long... I over think things almost as much as Edward does, but it's more of a compliment to you that I write such a detailed review! :]
Author's Response:
Haha, no worries about the length of a review! I appreciate you taking the time to leave a thought-provoking response. I think only fellow authors understand how important it is. Believe me, there is no such thing as over thinking when it comes to Mr. Cullen! I understand your dedication to canon and love it in application in your current fic. You brought up some very interesting questions. I'm going to have to show my beta because we had discussions about them before I sent this in to the archieve! Here's what I'm thinking since I can't pass up challenging questions! ;)
Poor messed up Edward. I understand what you're saying about Edward being too happy about Bella's impending change. I think the first time he completely accepted the reality of her change isn't until after their first night in the cottege. It would be out of character for him to be excited about it now.
Edward said in the books that if he were selfish, he would change Bella to keep her at his side. Obviously, he's not acting on those desires, but they're there. He just doesn't vocalize them. I always saw this as being a very weird time for Edward. The man honestly believed Bella to be dead, and now here he is at her side while she sleeps. He's *almost* allowing himself that "happily ever after" fantasy. Who wouldn't? I was very careful to tiptoe around this idea because Edward is still quite torn between what he wants, (the inevitable), and what he thinks Bella needs, (a long and happy life). Now, once Bella wakes up and starts talking, the reality sets in. Yes, that might be what he wants, yes it seems inevitable, but damned if he isn't going to try and fight it anyway. It's what Bella needs, and to him, what she deserves. The trip to the house would be time for the famous Edward Cullen self-flagellation. His anger at the Cullens can also be attributed to his ever-present self-hatred. Not only was he feeling completely betrayed by his family, (Carlisle in particular), but he felt he had betrayed Bella himself with his fantasy and desires.
As far as Alice and her visions go, they're certainly tricky little things. How come Alice sees Bella as one of them when no one has made the conscious decision to change her? When Bella doesn't even know the truth, yet? I love Stephenie's foundation for the visions; they're never certain...always changing. However, some of the canon visions were more about a decision that WOULD be made rather than most that were immediately spawned from someone's choice. The vision of Bella as a Cullen is a perfect example of that. My beta/close friend and I went back and forth for some time, (she's an Alice fan and saga purist). Based on what I've observed from canon, one can assume that when Edward decided to spend the night, he set off a couple chain reaction decisions. Alice wouldn't have seen what the visit was about since the vision would have still be blurry and in its "snapshot" form, but she would have seen Bella and Edward at the house. That's just my take on it.
Whew! That was fun, although it might have been completely confusing and difficult to read. It's after two in the morning here, and I should not still be awake, (let alone typing anything)! I really, really appreciate you taking the time to respond and keeping me honest about canon! ;) Thanks for reviewing!!
BTW - go check out Twilightlexicon.com. You had asked me in your response to my review about how I knew some of what Stephenie has said about Edward's inner monologue before. The Lexicon has a bunch of information the creators got from Stephenie back when the Twilight Saga was less a saga and more a book and its sequel. Through email, (and transcript of public appearances), they assembled lots of information directly from the source that is considered canon since Stephenie said so! Example: Carlisle and Esme's previous meeting is canon and explained in one of the PC's. Go take a look! :)
An Unselfish Gift
by
Phoenix Rising
Rated:
PG-13
[
Reviews
-
27
]
Summary:
A winner of the Canon Christmas Contest. One-shot. Bella has her first (and last) Christmas in Phoenix with Renee and her new husband, Phil, as she wrestles with the decision to leave and live with Charlie. Little does she know that her decision effects more than just her immediate family.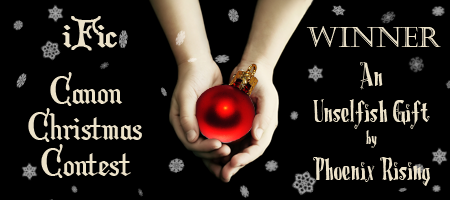 Thank you to Readergoof for the lovely second banner!
Categories:
Pre-Twilight
Characters:
Alice
,
Bella
,
Charlie
,
Edward
,
Phil
,
Renee
Challenges:
Series:
None
Chapters:
1
Completed:
Yes
Word count:
3534
[Report This] Published:
November 14, 2009
Updated:
November 14, 2009
Reviewer:
PaperArtist
Signed
Date:
January 24, 2010
Title:
Chapter 1: One-Shot
Very nice. I have my doubts about Alice knowing about Bella coming, considering what Stephanie Meyer wrote in "Midnight Sun"... but it was a neat idea. :]
The thing about Esme "waking" them up to open presents was pretty funny. :]
Author's Response:
I figured Alice would see Bella's decision to come to Forks, and possible some of Edward's reaction to her, at the very least. It's all speculation, of course. Thanks for reviewing!
xoxo Sarah
To Save His Soul
by
laurelnola
Rated:
NC-17
[
Reviews
-
51
]
Summary:
On her honeymoon, Bella dreams what life would be like if she granted Edward's wish… and stayed human for him.
Takes place during "Breaking Dawn."
Categories:
Breaking Dawn
Characters:
Bella
,
Carlisle
,
Edward
Challenges:
Series:
None
Chapters:
1
Completed:
Yes
Word count:
7996
[Report This] Published:
January 12, 2010
Updated:
January 21, 2010
Reviewer:
PaperArtist
Signed
Date:
February 22, 2010
Title:
Chapter 1: One-Shot
Wow. Especially the part where Carlisle had promised to end Edwards life because he loved him that much (made me cry!) Really really brilliant. I've always been able to see how much Edward continually gives up for Bella, but this was wonderful to think of. She always said how much she loved him yet he truly loved her so, so much more. I wish more people could see this as you have. Edwards voice just rang true in this as well. Wonderful job!
Author's Response:
Thank you so much! I really had a great time writing this story- I loved getting into the characters' heads, because there's so much depth to them that we sometimes don't get to see. Carlisle is one of my favorite characters so I *had* to include him in this tale. So glad you liked it, and thanks SO MUCH for leaving such lovely comments! :-)
Eclipse Missing Moments
by
Looby Luscious
Rated:
G
[
Reviews
-
70
]
Summary:
A series of one-shots from Edward's POV.
Categories:
Eclipse
Characters:
Edward
Challenges:
Series:
None
Chapters:
8
Completed:
Yes
Word count:
8980
[Report This] Published:
April 05, 2010
Updated:
May 26, 2010
Reviewer:
PaperArtist
Signed
Date:
May 08, 2010
Title:
Chapter 2: Eclipse Chapter 10 - Scent
Very nicely done on Edward's character! I don't detect anything "off" about it at all, but now that you have him going really well at some point it would add a lot if you could delve into the other chacters too! I know it's a lot to do with Edward because you not only have to learn HIM from the inside out, but technically you have to know everyone ELSE from the inside out since he reads their minds. But he doesn't know them as they know themselves as he's filtering everything coming from them (at least what he takes note of) through his own experiences and thoughts (he's obviously not going to be unbiased about anyone because none of us are.. his probablem is that he can THINK he's being unbiased about people since he can read their thoughts... but.. he's not them.) Anyway, what you have is really great! Now go deeper! Think of all the random things that pass through your mind and imagine what would pass through the minds of others around you. Go back and read "Midnight Sun" on Stephanie's website there are enough chapters from her to get a great feel for how he "reads" people. Then with this chapter imagine not only WHAT Jacob would be thinking as they drive up.. but his voice (we've got a whole 1/3 of a book in his voice from breaking dawn! .. Only.. at this point in his journy he'd naturally be more hopeful then in Breaking Dawn when he knew for sure that she was gone from him.. he was bitter by then. So.. give him a little hope in the tone of his thoughts.) Now, once you figure out all the little things Jacob *could* be thinking run it through who Edward is and what Edward would pay attention to... he's only going to focus on the important things and fully thought out sentences. Remember Edward can not only hear words in the minds of others but "see" through their eyes and even feel (through their thoughts) what they feel about something (not in the same way as Jasper can though of course... I think he *knows* what they are feeling rather than *feeling* it as Jasper does.) Anyway, it's SUCH a great and fun writing tool to use and one reason why Edward is so fun to write from, BUT the mind reading thing is also one of the hardest things to do well because you DO have to know the other chacters really well. It's worth it though, really. :]
Author's Response:
Firstly, thank-you so much for taking the time to put your thoughts down. I really appreciate it.
I do understand what you mean about the other characters, and perhaps if I was making this into a huge story then it would definately be something to consider. (I would probably really mess it up with Rosalie though, because as hard as I try, I can't quite get a handle on her. She is so much the opposite of me in so many ways, I have nothing to ground her.) As it is, my aim was really to just explore Edward. The glimpse we get of his emotions through Bella's eyes started me wondering what exactly was going through HIS mind. I wasn't particularly concerned about fleshing out Jacobs thoughts, just the tenor of them and the effect they would have on Edward. All my missing moments are going to be reflecting that. :)
Reviewer:
PaperArtist
Signed
Date:
May 08, 2010
Title:
Chapter 3: Eclipse Chap 14 - Declaration
I really like how many emotions you make Edward go through. It's exactly who his character is! Often we barely see what he *could* be going through from Bella's perspective (there is almost always a hint though that Stephanie Meyer writes in, but it's often hard to find and really peal back and ask "why" and flesh it out...) I also really like how canon this feels, pulling in the image of the meteor lighting up the night around him. I'm trying to figure out if it's actually possible for Alice (or anyone) to sneak up on him.. even IF he's really distracted.. I'm not sure it's possible because he can read minds up to three miles away and the tone of his own family is the loudest... even if they aren't thinking anything very specific I always got the impression that the *tone* could be heard .. if that makes sense.. Anyway, just keep that in mind.
I'm thinking of later in the Eclipse when Edward admits to Jacob how jealous he truly is (but hides it SO well.) I liked in this chapter how you touched on that. Edward goes back and forth so much, the anger the remorse the guilt the jealousy. As a writer it's great to flesh out all of those emotions for him and I can see you doing that! Keep up the great work. :]
Oh, and in case you haven't read this I found THE BEST rendition of when Bella first escapes to Jacob and Edward is all freaking out. This is before your story and ends before your story begins, but when I wrote my own fanfics I liked to read what other people did before or after me (that was in canon and done well) to make it all tie together (it helped to see the arch of the character and understand him better I found.) http://www.fanfiction.net/s/4857360/1/Frantic
You are doing a wonderful job. I hope you keep going with this! I know it's daunting, but it's also really rewarding. :]
Author's Response:
Again - such a helpful review. Thank-you.
I know what you mean about Edward "hearing" his family, and I think you are right. However, he does often try to block them out to give them some privacy if he can. I imagined him so lost in his emotions and feelings at this point that the familiar presence of Alice which he was so used to, would not have impinged on his concious thoughts. Not that he wasn't aware of her on some level, and certainly if there had been anything unusual or urgent about her thoughts that he would have processed them and reacted.
I will definately look at the link - thanks for that. I'll also have a look for your fics too. I'd be interested in reading them!
Reviewer:
PaperArtist
Signed
Date:
May 24, 2010
Title:
Chapter 7: Chapter 23 - Monster
Very nice! I especially like the part when he's off with Seth and thinking about what he'd do if she chose Jacob. Everything rings true to his character. :]
Author's Response:
Thank-you for reviewing. I really appreciate your kind words.
---



© 2008, 2009 Twilighted Enterprises, LLC. All Rights Reserved.
Unauthorized duplication is a violation of applicable laws.
Privacy Policy | Terms of Service


All publicly recognizable characters, settings, etc. are the intellectual property of their respective owners. The original characters and plot are the property of Stephenie Meyer. No copyright infringement is intended.