Your donations help keep this site running,
thank you very much for the support!

Penname:
Jenndur [
Contact
]
Real name:
Jenn
Status:
Member
Member Since:
January 04, 2010
Website:
Beta-reader:
my name is jenn and i'm 22 years old. i have a 2 year old son that i completely adore. i currently work as a nanny. i'm still trying to figure out what it is i want to do with my life. i've already begun backing myself up for a few different possibilities. though i'm taking a semester off from school, i'm debating whether i want to continue my education in the medical field, or if i want to get my AA in child development. either way, i think i want to also pursue a degree in english. my manfriend keeps telling me that since i'm so obessed with writing and reading, i should just write a book of my own. maybe later in life when everything is more stable. who knows...




i've been reading fanfiction for about 12 years now and have various accounts on here. unfortunately, i've forgotten the passwords and email addresses to my other accounts. i did write a harry potter story that was/is on hiatus on another account.











[
Report This
]
Rising Dream, Fallen Star
by
MrsShortHand
Rated:
NC-17
[
Reviews
-
249
]
Summary:
He was the lead singer of The Volturi. One of People's Sexiest Men. I was a new recording artist with an entire album riding on my shoulders. We were Hollywood's newest "it couple." Until he ruined everything - our relationship...my career...his life. Can our love be saved if he can't even save himself?
A story about love, lemons, lies...and learning to forgive.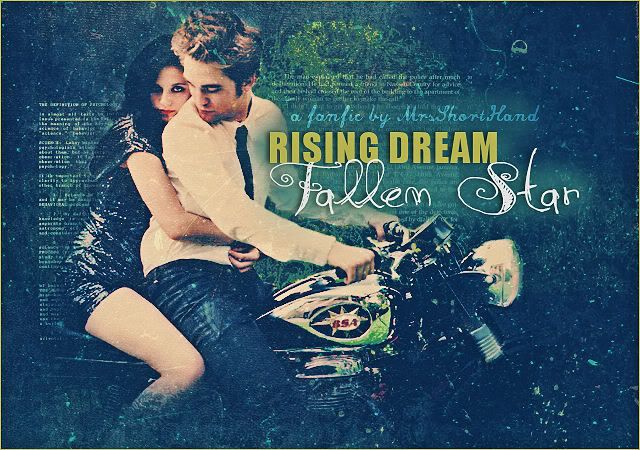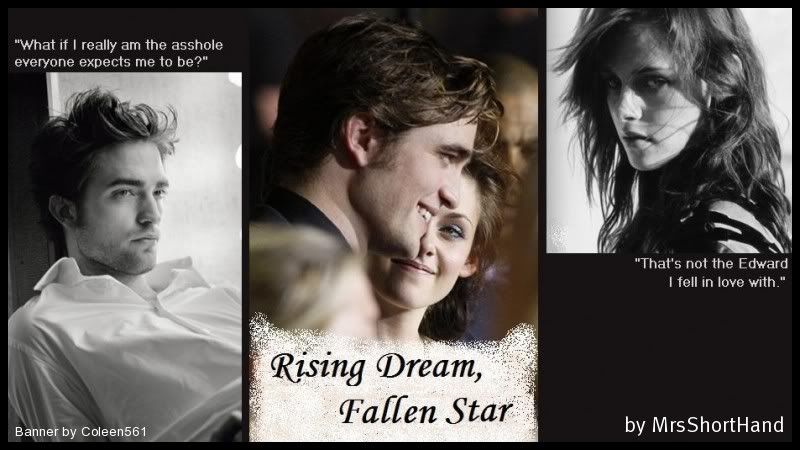 Categories:
AU-Human
Characters:
Bella
,
Edward
Challenges:
Series:
None
Chapters:
31
Completed:
No
Word count:
213388
[Report This] Published:
November 28, 2010
Updated:
July 18, 2015
Chocolate Brown and Leather Whips
by
krazyk85
Rated:
NC-17
[
Reviews
-
386
]
Summary: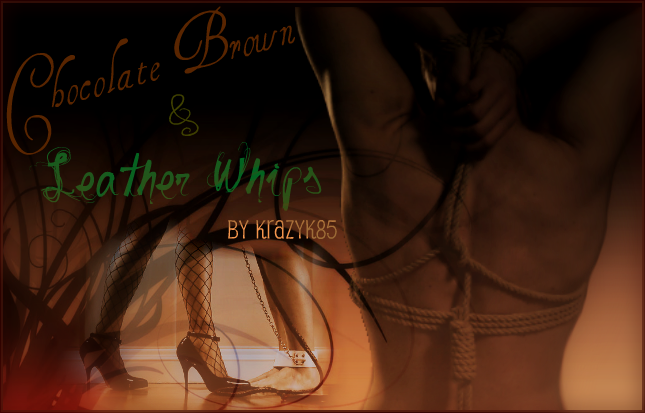 Taking one last deep breath, I bent down on my knees and assumed the position that Angela taught me. My hands were now shaking uncontrollably, and I was thankful to be able to place them on the cold, hard concrete. It kept me steady as I lowered my head and waited for the mistress to make her appearance.
It seemed like forever, and I knew it was more likely like two minutes, but the door finally creaked open. It was such a rush to have only my hearing to decipher what the mistress was doing because I saw nothing, but heard the soft clacking of her heels on the floor.
Breathing heavily now, I stared at the ground, nervous as all hell, and waiting for something-her, me...I didn't know.
It wasn't until I saw the shiny black tips of her boots-that was when I knew it was all real. The moment had finally come. After all the weeks I'd obsessed and basically stalked her, I was finally here with her, and she still had no idea who I really was...
"Good evening, Pig!"
Edward Cullen is a 21 year old man who has the world at his finger tips. He has a great education, money, and plenty of women. The things he feels he's entitled to...but what happens when an innocent meeting with a beautiful, but older Isabella Swan at a coffee shop turns into something he never expected.
Will a hot and assertive woman like Bella, who likes to take control, finally be able to teach a young cocky Edward about life, sex, and women?
Thrust into a world filled with pain, pleasure, and all too consuming desire...Edward soon realizes it's a life he can't live without.
Chocolate Brown & Leather Whips summary trailer: By Emily Bowden
http://www.youtube.com/watch?v=HBsINM0Nu3Q
Teaser Trailer # 2
http://www.youtube.com/watch?v=20q3OG5zRwQ
Categories:
AU-Human
Characters:
Bella
,
Edward
Challenges:
Series:
None
Chapters:
34
Completed:
No
Word count:
234760
[Report This] Published:
July 21, 2010
Updated:
November 28, 2011
Discovering You, Discovering Me
by
JSFazz
Rated:
NC-17
[
Reviews
-
699
]
Summary:
Bella Swan was always awkward and never quite knew where she fit in, but she always had a best friend in Alice Brandon. Edward Cullen was hopeless since the first grade, branded a geek and bullied every day of his life. It's years later and Bella has just returned to Forks after graduating college. She's desperate for a job and grabs the first thing she can find working at Forks Pharmacy with none other than Edward Cullen. Follow their budding friendship as it evolves into something more, where Edward and Bella discover a little something about themselves as well as each other. In the end, can Bella find where she belongs, and can Edward find someone who accepts him for who he really is?
Thanks to monamour for the banner!
Categories:
AU-Human
Characters:
Bella
,
Edward
Challenges:
Series:
None
Chapters:
18
Completed:
No
Word count:
126299
[Report This] Published:
January 30, 2010
Updated:
August 26, 2011
The Maxi-Pad Misadventures of Edward Cullen and the Crimson Tide
by
Roxie
Rated:
PG-13
[
Reviews
-
371
]
Summary:
YOUTUBE TRAILER!!! http://www.youtube.com/watch?v=K_J9zh7ChQQ
Edward can't believe it when Bella, sitting in his car with him, suddenly starts to bleed. He is horrified until he realizes it's only her "time of month" and there is nothing to worry about. Unfortunately for him, this does nothing to dissuade his heroin-like craving, especially when there are veritable goldmines of Bella's sweet blood, just sitting there in her trash! Can Edward really go through with his plot? Won't Bella notice her missing garbage? How will the Cullens escape detection now?
Find out in: The Maddeningly Marvellous, Magically Mysterious, Majestically Malodorous Maxi-Pad Misadventures of Edward Cullen and the Crimson Tide!
Thanks to SubtlePen for the idea and permission to use it. Everyone should go read her stories right now! (after this one)
Thanks to Mama_Marinara and EmmettIsMyTeddyBear for the great banners!
Categories:
Twilight
,
Crackfic
Characters:
Alice
,
Angela
,
Bella
,
Carlisle
,
Charlie
,
Edward
,
Emmett
,
Esme
,
Jacob
,
Jasper
,
Jessica
,
Rosalie
Challenges:
Series:
None
Chapters:
8
Completed:
Yes
Word count:
13134
[Report This] Published:
June 21, 2009
Updated:
September 05, 2010
With Teeth
by
TalulaBlue
Rated:
NC-17
[
Reviews
-
5906
]
Summary:
Edward is a 27-year-old alcoholic/addict struggling with his recovery. Bella is a 23-year-old who's moved back home after college. This fic chronicles how they meet, fall in love, and struggle with the complexities of their relationship. Not nearly as maudlin as it sounds (I hope).
Rated NC-17 for graphic (and sometimes non-romantic) sex, drug and alcohol use and abuse, profane language, and brief (very brief) suicidal ideation (although NO suicide attempts). No sexual assault, no cutting.
Categories:
AU-Human
Characters:
Bella
,
Edward
Challenges:
Series:
None
Chapters:
27
Completed:
Yes
Word count:
183053
[Report This] Published:
August 07, 2009
Updated:
August 22, 2010
---



© 2008, 2009 Twilighted Enterprises, LLC. All Rights Reserved.
Unauthorized duplication is a violation of applicable laws.
Privacy Policy | Terms of Service


All publicly recognizable characters, settings, etc. are the intellectual property of their respective owners. The original characters and plot are the property of Stephenie Meyer. No copyright infringement is intended.